Dear DuVall Families,
We have another busy week! This is Teacher Appreciation Week at DuVall. I wish I could give our teachers the moon because they certainly deserve it. The amount of time worked, well beyond the required hours they put in is remarkable, the amount of their own money they spend for treats, supplies, and things for our children to make their time at school enjoyable and filled with learning is beyond what you can fathom, and the amount of love and care they give our students is equal to what they give their own children. These are some of the reasons our teachers deserve a special week. Please, in some way, show them you and your children appreciate them. It doesn't need to be a gift, a heartfelt note or card is something they will keep and cherish for the rest of their careers. Many thanks to all of the parents that came in on Saturday to help decorate for our teachers.
We also have our Mother & Son Kickball Game. We are in need of volunteers and donations. Please click here to view the Sign-Up Genius. Please bring chairs to watch. There are no bleachers. There are also no restrooms.
Welcome Sara Hazimeh, our new cafeteria manager. Mrs. Hazimeh joins us from Haigh and replace Ambra Taha. Mrs. Taha will be moving to a custodian position at River Oaks.
This week's notes:
Thank you Mr. Zeaiter for your generous donation to our school!!!
5th graders remember your instruments on Monday.
School Store will be Thursday. Many thanks to Mrs. Batha for running this for us.
Many thanks to Mrs. Meyer and Mr. McLennan for last week's concerts. Our students performed so well. I am proud of their hard work and accomplishments! Thank you to all of the parents, families, and friends that attended.
Students that are running a fever of 100.4 or greater stay home until they are fever free, without medication, for 24 hours.
Students that are vomiting must stay home until they have not vomited for 24 hours.
Students that are absent should not participate in evening events. This includes concerts, sporting events, fun events such as ice cream social, etc.
Reminder: After school events, enter through door 5 or door 8.
We still have students that need a change of clothes and do not have one in their backpack. Please, especially our kindergarten and first grade parents, put a change of clothes in your child's backpack incase they get wet or muddy outside or have an accident. If this change is needed it may save you a trip to school.
Just a reminder, we will not have summer school at DuVall due to the construction. We will have a Pop-Up literacy event outside on Wednesdays July 26, August 2, 9,and 16. Students will stop by, do an activity and receive a free book. Students can come anytime between 9:00-11:00. They will not stay the entire time, it's just a drop-in for 15-20 minutes. More information will be sent home as the end of the year draws near.
We have new stools in the Art/STEAM room and one new table is on its way. We were able to acquire these items without any cost to DuVall.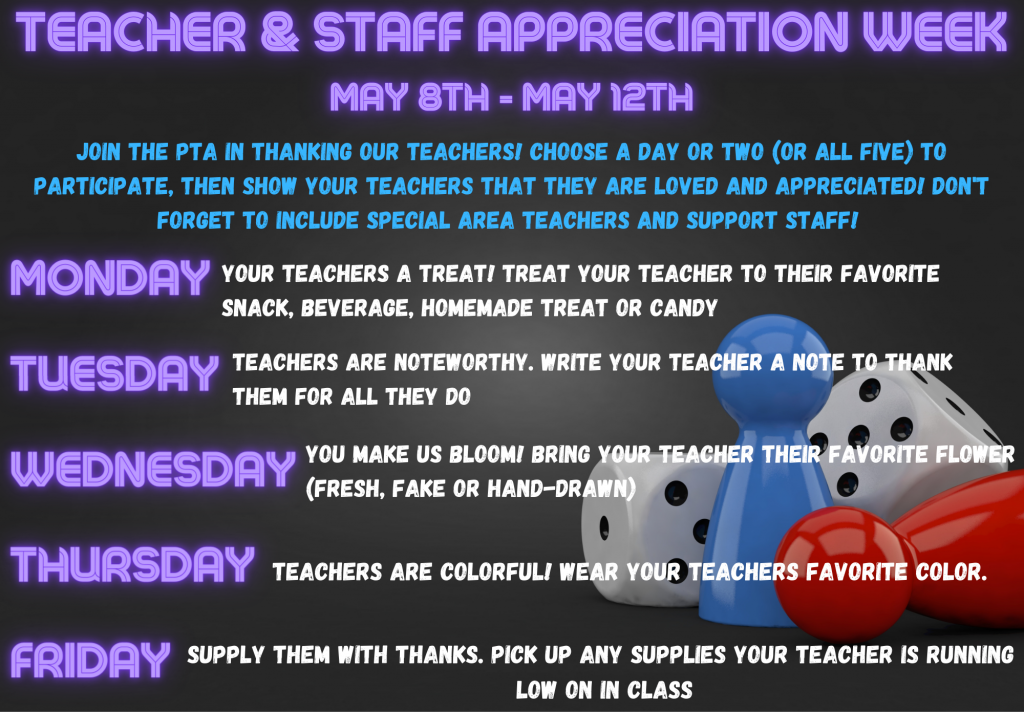 Day
Activities
1st Choice
2nd Choice
Watch DOGS
Monday
Treat your teachers to their favorite snack, beverage, homemade treat, or candy
5th grade instrumental classes
Pasta Alfredo
Sunbutter & Jelly
Tim Noles
Tuesday
Write your teacher a note of thanks for all they do
5th Grade Science M-Step
Beef Soft Taco
Turkey & Cheese Sandwich
Wednesday
Bring your teacher a flower (fresh, fake, or drawn)
3rd Grade Math M-Step
4:00 5th Grade DuVall Depot
4:00 Butterfly & Garden Club
5:30 Parent Book Club (final Zoom meeting)
6:30 PTA Meeting, Media Center & Zoom
French Toast Sticks
Cat in the Hat Strawberry Parfait
Thursday
Wear your teacher's favorite color
5th Grade Social Studies M-Step
School Store
Pizza
Tuna Salad Power Pack
Friday
Bring your teacher a school supply that your class needs
11:00 Fire Drill
1:40 Assembly on racial slurs and langage Zeinab Sarieni, grades 2-5, gym
Mother & Son Kickball Game, 4:30 Summer Stephens
Fish Patty Sandwich
Veggie Ranch Wrap
Lauren Schuchert (½ day)
Vince Fullerton

Upcoming Dates:
May 16, District Honors Choir Concert, 7:00 at Stout
May 17, Late Start, start time 10:00
May 17, Sahara Fundraiser
May 18, STEAM Night
May 23-24, Veterans Baskets
May 26, No school – Conference release day
May 29, No School – Memorial Day
June 1, Field Day
June 2, Ice Cream Social, 5:30
June 3, Native Plant Sale
June 13, Park & Pool
June 15, 5th Grade Promotion, 10:00
June 15, Last Day, 12:05 dismissal