Dear DuVall Families,
Please remember, Tuesdays students are dismissed at 2:25. This Friday is a 12:05 dismissal.
Many thanks to Mrs. Noles and all of our PTA parents and grandparents for making our Halloween Dance a smashing success! This kids had a great time, were well behaved, and mostly importantly made memories. A special thank you to so many parents that helped clean-up. We were down a custodian on Friday and so many of you stepped up ad helped with whatever needed to be done. We have an amazing community. Our students are so lucky to have so many wonderful role models to help them grow, learn, and prepare for life.
This Week's Notes:
Please adhere to all traffic regulations. Drop-off is on Francis only. Do not pull into the teacher parking lot.
Please be respectful during the Pledge or Allegiance and DuVall Pledge. Teachers need to say the pledges with their students so I am asking parents to not speak to them during this time.
If you are interested or know of anyone who is interested, in applying as a noon hour substitute go to: https://www.applitrack.com/resa/OnlineApp/default.aspx?choosedistrict=true&applitrackclient=38448&category=Substitute&AppliTrackJobId=23561_38448&AppliTrackLayoutMode=detail&AppliTrackViewPosting=1 After you apply, you must go to Human Resources, 18700 Audette and pick up a packet to complete. You will also need a TB test and a physical. Please let me know if you complete the application process.
We are still in need of Watch D.O.G.S. If you are interested please come to the office to sign up.
All volunteers must have an iChat. Please fill one out if you haven't. They are valid for three years.
We still have ten families that have not responded to our email about filling out the CEPT forms. Our funding is dependent on families filling out this form. PLEASE consider completing it. These forms allow us to pay for our two interventionists on staff that assist our students having trouble with academics, it also is allowing us to send four teachers to the Michigan Reading Conference in March, purchase laptops for our teachers to make working from home easier, supplemental resources that align to our Benchmark reading program, Brain Friendly training for our teachers, and more. These forms also are the reason our district is able to offer free breakfast and lunch to all students.
Halloween, October 31st – Lunch changes & Trunk or Treat schedule

K: 11:30-12:11:50 recess, 11:50-12:10 cafeteria
1-2: 11:30-11:50 cafeteria, 11:50-12:10 recess
⅔-3: 12:20-12:40 cafeteria, 12:40-1:00 recess
4-5: 12:20-12:40 recess, 12:40-1:00 cafeteria
1:00 kindergarten begins the parade, followed by 1, 2, 3, 4, 5. Preschool will skip the parade and come out for Trunk or Treat only after 5th grade.
Leave for the parade out of the front door, walk down Francis, and around the block. Enter the playground on Beech. Class picture in front of the brick wall under the 2nd floor windows, go to Trunk or Treat and come back into the building. We have 243 students with preschool. If you are decorating your trunk please plan on having candy for all of our students. Thank you

Trunk or Treat, October 31, please click here to donate, volunteer, and/or sign-up your car: https://www.signupgenius.com/go/4090B4AACAF23A3FB6-44695065-trunk If you are decorating your car please have enough candy for 250 students.
Our Girl Scouts are collecting items for the Friends for Animals of Metro Detroit. Click to view the flier and items needed. There are also fliers posted at all of our doors.
This is the last week for Walk N' Roll. We fell to fifth place last week. Everyone, let's have a great week of walking and riding our bikes to school. The weather looks like it will cooperate.
Date
Week's Schedule
Lunch First Choice
Lunch Second Choice
Watch D.O.G.S.
Monday
7:45 Art Club, Room 101
LAHC Developmental Preschool & GSRP Preschool
Scrambled Eggs w/Pancakes
Blueberry Parfait
Tuesday
2:25 Early Release
"Pizza" Grilled Cheese
Sunbutter & Jelly
Wednesday
8:00 Music Club, room 111
2:30 DTE Assembly, (Mrs. Alabakoff, Mrs. Ranka/Mrs. Morey)
3:20 Ambassadors Meeting, room 104
Beef Soft Taco
Tuna Salad
Thursday
10:30 Lockdown Drill
Pizza
Buffalo Ranch Chicken Salad
Friday
World Occupational Day – Thank you Mrs. Galdes!
Final Day of Walk N'Roll
7:45-8:15 Running Club
12:05 Dismissal
12:05 DismissalNo Lunch
12:05 DismissalNo Lunch
Abraham Salgado
Upcoming Dates:
Oct. 25 to 27 – Haunted Theater at Edsel Ford High, 6 to 9 p.m. Tickets are $5.
Oct. 27 – 28 – Smith PTA Haunted Car Wash, 7 – 10 p.m. both nights, Westborn Car Wash
October 31: Halloween Parade & Trunk or Treat
November 3: Book Bingo
November 7: No school for students – All teachers – professional development day, PTA Bake Sale which benefits 5th grade students and their water park trip
November 8: PTA Meeting 6:30, Media Center and Zoom
November 14: Parent Teacher Conferences, 2:30-8:30
November 15: Parent Teacher Conferences, 4:00-7:00
November 22: No school – Conference release day
November 23-24: No school – Thanksgiving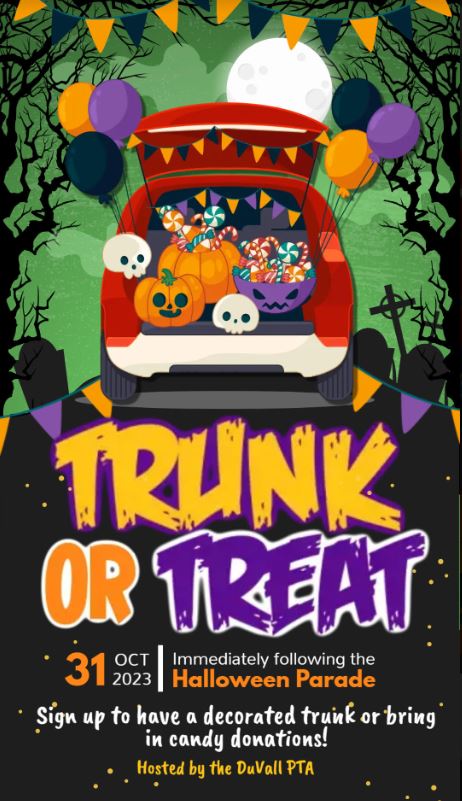 Have a great week,
Mary Timpf