Dear DuVall Family,
This is a long post so please scroll to the end, past the graphics.
Our construction has begun. Most things went smoothly. We have learned a few things and are adjusting to make sure our students are safe and learning, even through the construction. Many thanks to our teachers who are going the extra mile to make sure this happens.
I would like to welcome our new Media Secretary, Ms. Nadia Bazzi. Ms. Bazzi will be responsible for our book check-in and check-out. She is at DuVall on Mondays.
This week is our Halloween Dance, back after a few years off due to Covid. If you would like to volunteer or make a donation, please click on the link below. October 28th is our Halloween Parade and Trunk or Treat. To volunteer or donate for that click on the second link below. We appreciate everyone's time and donations to ensure a fun time for our kids. They have been working hard and deserve to have some fun. The Halloween Parade/Trunk or Treat is during the school day. If your children do not participate in this holiday please make sure their teacher is aware. All beliefs and choices are respected and will be adhered to.
I will be sending another email/post tomorrow. I left my notes at school on a few things I wanted to inform you about but can't recall them all. Thank you for your patience and understanding.
Have a good week,
Mary Timpf
Halloween Dance
https://m.signupgenius.com/#!/showSignUp/4090B4AACAF23A3FB6-halloween
Trunk or Treat
https://m.signupgenius.com/#!/showSignUp/4090B4AACAF23A3FB6-trunk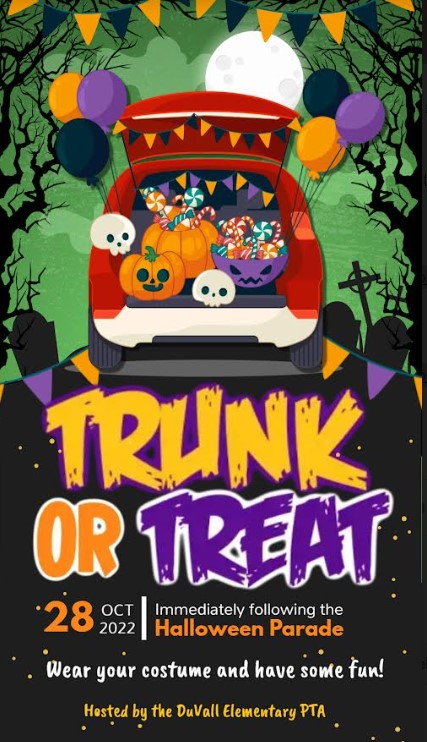 This week's reminders:
Lost and Found is getting larger each day. If your child is missing anything please have them look in the box. If you would like to check, please come through door 1 and sign-in at that office before going to the Lost & Found box.
Parents are not allowed in the school for any reason without signing in at the office first. This is for safety reasons. We need to know who is in the building at all times.
Please try to let the office know before 9:00 if you are picking up your child(ren) early. This will help in lessening class interruptions when calling students down.
Day
Calendar
1st Choice
2nd Choice
Monday
6:00 Watch DOGS meeting, cafeteria
Kung Pao Chicken
Cheese Quesadilla
Tuesday
Parent Education Meeting (Risks of Screentime) 9:10 Media Center & 6:00 Zoom
1st- Chicken Nuggets
Sunbutter & Jelly
Wednesday
10:30 Grades PK-2 Labne Trade author visit
11:00 Grades 3-5 Labne Trade author visit
Chicken Tenders
Fish Sticks
Thursday
Cheese Pizza
Fruit & Yogurt Plate
Friday
Halloween Dance, 6:00-8:00
Hamburger
Baked Potato w/Broccoli & Cheese
Upcoming Dates:
October 28: Halloween Parade & Trunk or Treat, 12:05 Dismissal
November 7, 10, 16: Parent Teacher Conferences 4:00-7:00
November 8: No School
November 9: PTA Meeting
Link to tentative PTA Calendar
Let's Talk Books and Reading
With all the national and local discussion taking place about books in schools, our district wants to assure parents that our Media Centers have always been, and continue to be, a great source of safe and age appropriate materials for your children.
Our schools will continue to be a welcoming, safe space for all children. Media centers reflect that with books on a wide variety of topics and age appropriate materials. There has always been a process for reviewing and approving what books are added to our libraries. The district has reviewed and updated that process. If there are any concerns about a particular book, there is a fair process available to review that book. It is highly recommended and encouraged, that you visit the District's First Bell website where you can read about the book review process in detail and other important information.
The district has almost 500,000 books in our libraries, representing 300,000 unique titles. The catalog for your media center is available on the Parent Portal page. Parents have always, and continue, to have the ability to opt their child out of a specific book. A Parent Opt Out for Media Materials form can be found on our website under the Parent Portal. The form can be used to limit specific titles your child can check out or to prevent your child from making any media checkouts.
Reading is so very important for children at all grade levels. Please do not stop encouraging your child to read and taking advantage of the thousands of great books in our Media Centers. Our Media Specialists are working everyday to provide your children with the very best materials that help them to be successful as a student and as a person.